Article Archives: Prev
Next of 85 articles
VOTE!
Remember, if you still haven't voted you may be able to take work time off to get to the polls. Details can be found here https://edpm.dc.

---
Reserve Your 2401 BLM Shirt Before Friday, 9/25!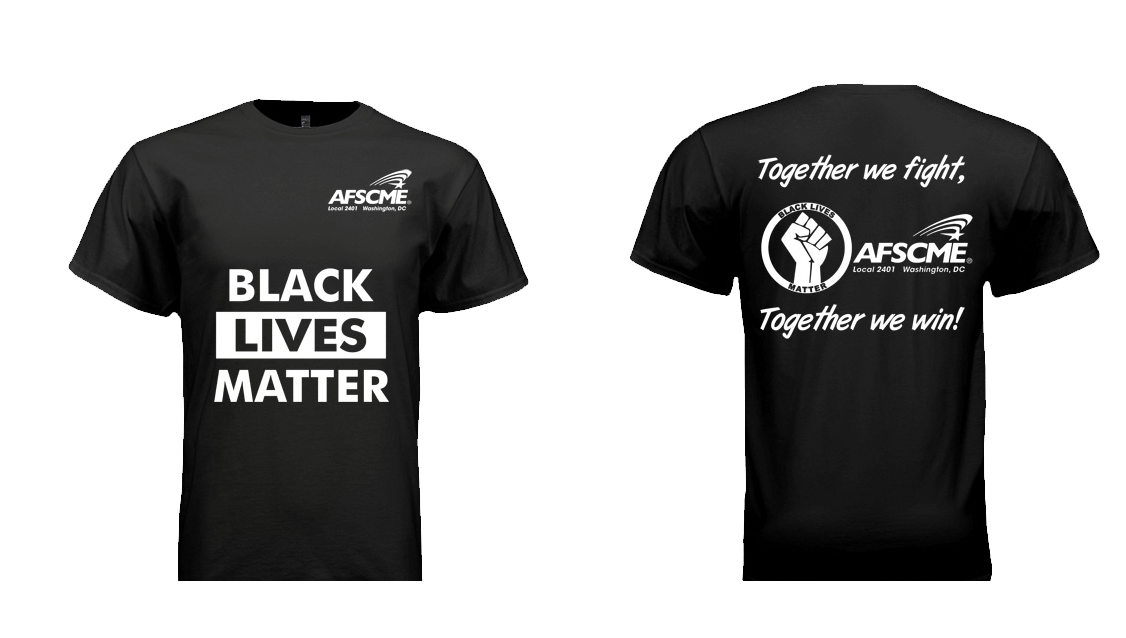 To celebrate Labor Day month and show Union pride and support for the Black Lives Matter movement for social and racial justice in these unprecedented times, Local 2401 has designed a special T-shirt AND a special event for our members to show them off!
Sign up today to reserve your shirt (limited number and sizes so ACT NOW!)
Wednesday, September 30 at noon, we'll gather together at Freedom Plaza to get a photo of EVERYONE wearing our shirts in solidarity with BLM and everyone fighting for justice and liberation everywhere!
You MUST be a member and registered on afscme2401.org
Details and t-shirt reservation form can be found by clicking HERE
---
Members,
Please read and share this message from President Enoch widely. If you haven't signed up via this website, please do it now and encourage your coworkers to do the same. Detailed instructions are below:
Good morning 2401,
Most of us have been teleworking for the past 5 months, but our fight continues. We would like to keep you informed of the things that Local 2401 is doing, but in order to do so, we need your help. Maintaining a manual email list is too cumbersome and does not get everyone captured; therefore, we will discontinue the manual, mass emails. Going forward, we will only email members who have signed up to receive mailings. Please visit www.afscme2401.org to get signed up. In the "Member Log In" area, select "Click Here to sign-up" and simply enter your information.
If you have already signed up, please make sure your contact information is accurate. This database is separate from AFSCME International, so we need your mailing address, email address and cell phone number. Our goal is to do a "surprise" mailing for Labor Day. Only Dues Paying members, who have signed up on the website will receive the mailing. Sign up by August 14, 2020!
Stay informed and stay connected. AFSCME Local 2401 is also on Facebook and Instagram.
In Solidarity,
Your Local 2401 Executive Board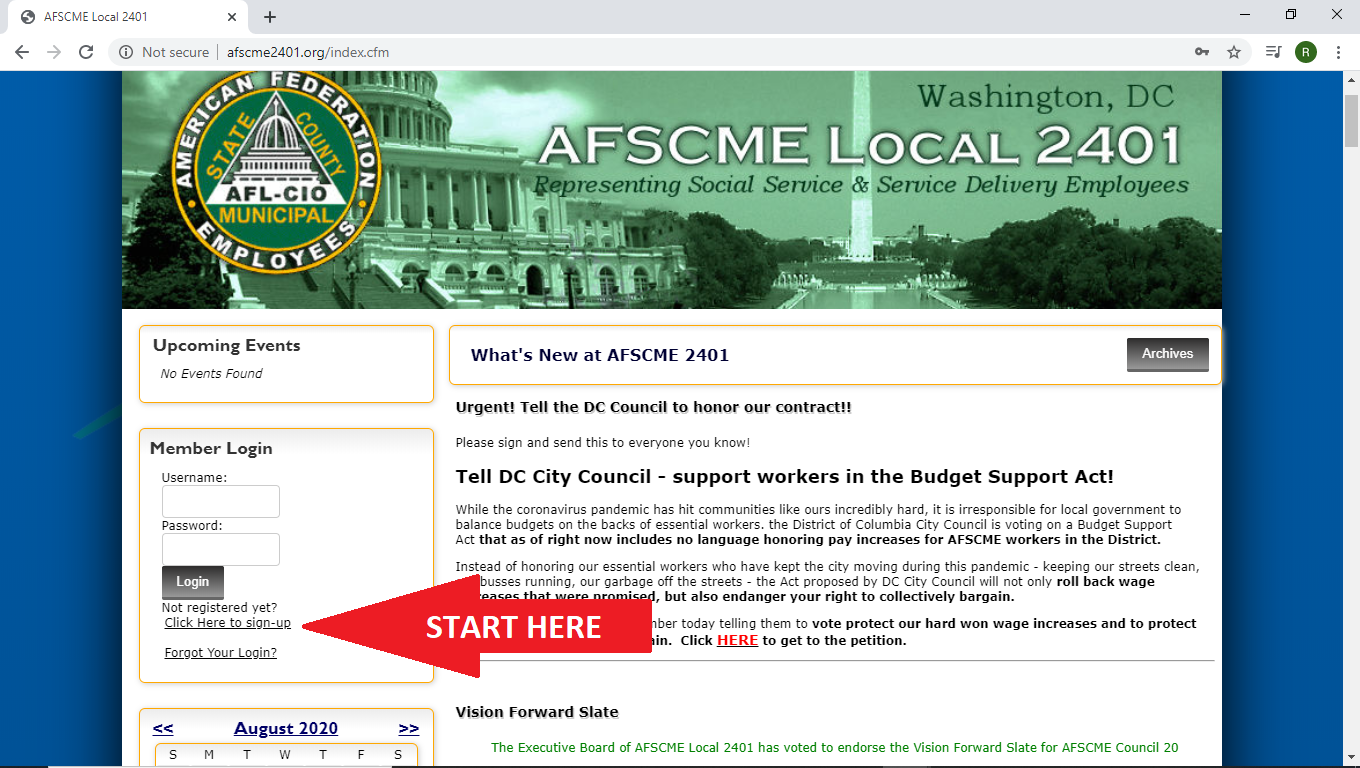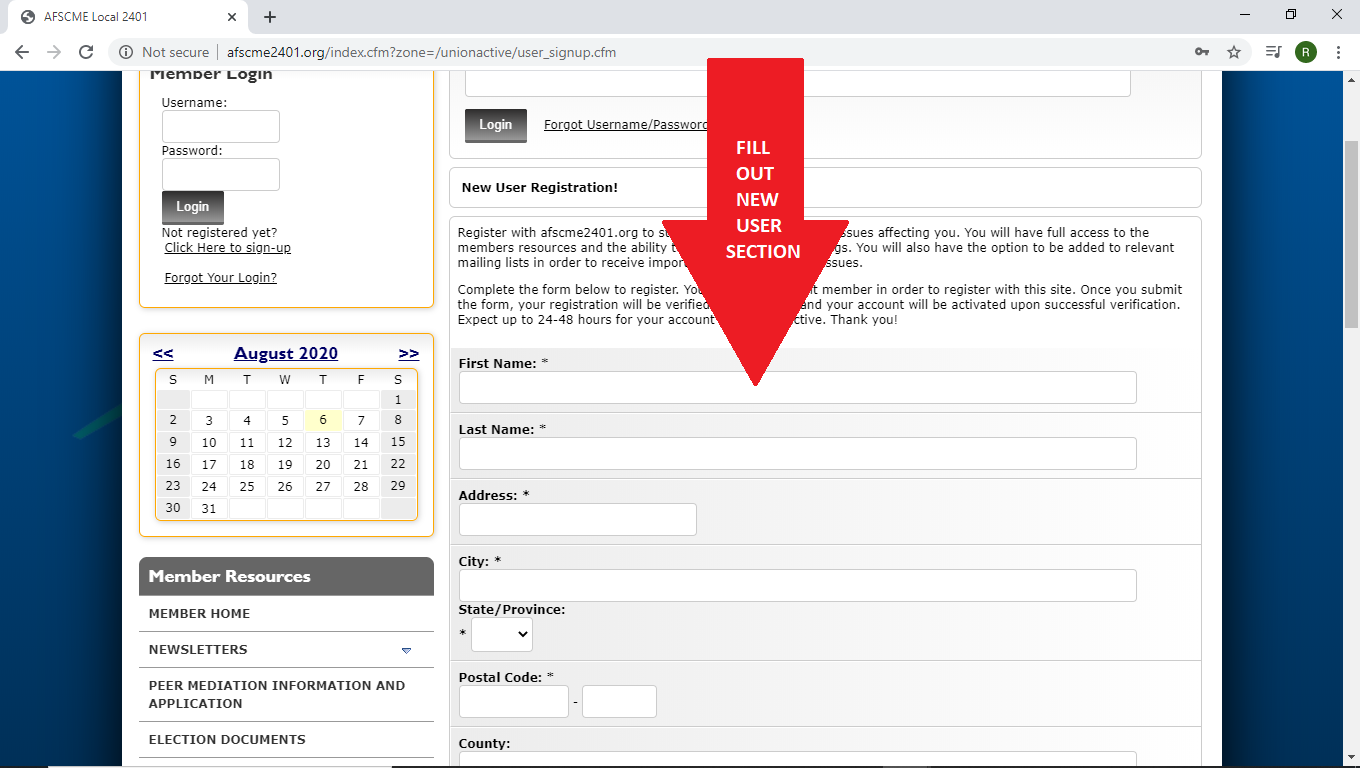 ---
Please sign and send this to everyone you know!
Tell DC City Council - support workers in the Budget Support Act!
While the coronavirus pandemic has hit communities like ours incredibly hard, it is irresponsible for local government to balance budgets on the backs of essential workers. the District of Columbia City Council is voting on a Budget Support Act that as of right now includes no language honoring pay increases for AFSCME workers in the District.
Instead of honoring our essential workers who have kept the city moving during this pandemic - keeping our streets clean, our busses running, our garbage off the streets - the Act proposed by DC City Council will not only roll back wage increases that were promised, but also endanger your right to collectively bargain.
Send a letter to your councilmember today telling them to vote protect our hard won wage increases and to protect our right to collectively bargain. Click HERE to get to the petition.
---
The Executive Board of AFSCME Local 2401 has voted to endorse the Vision Forward Slate for AFSCME Council 20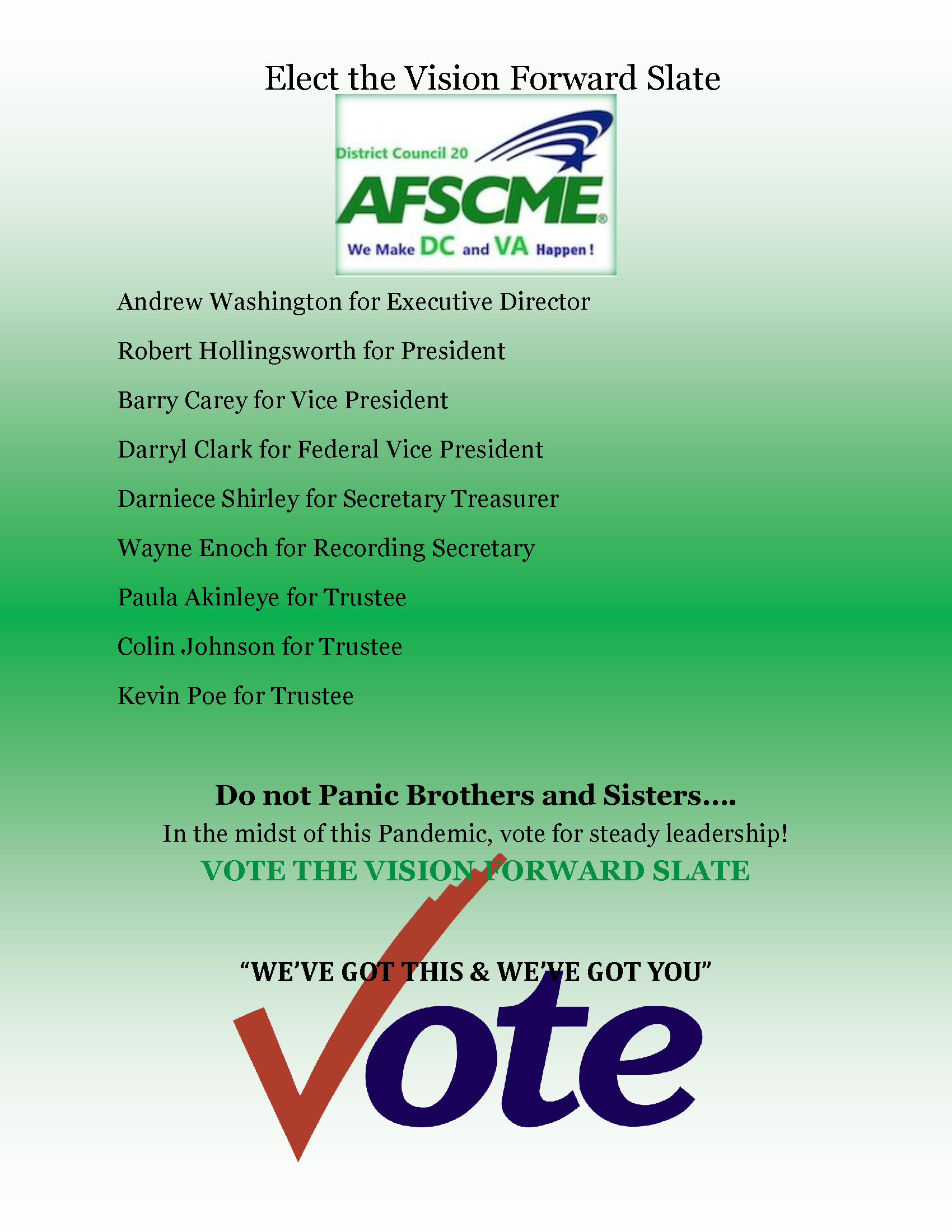 ---
Special thanks to all the members who came down to cast their votes under these unusual and difficult circumstances. Congratulations to all the winners, and WELCOME to your new officers, board members, and trustees, who we will get to know well in the near future. Special thanks to our new election Chairs and staff as well!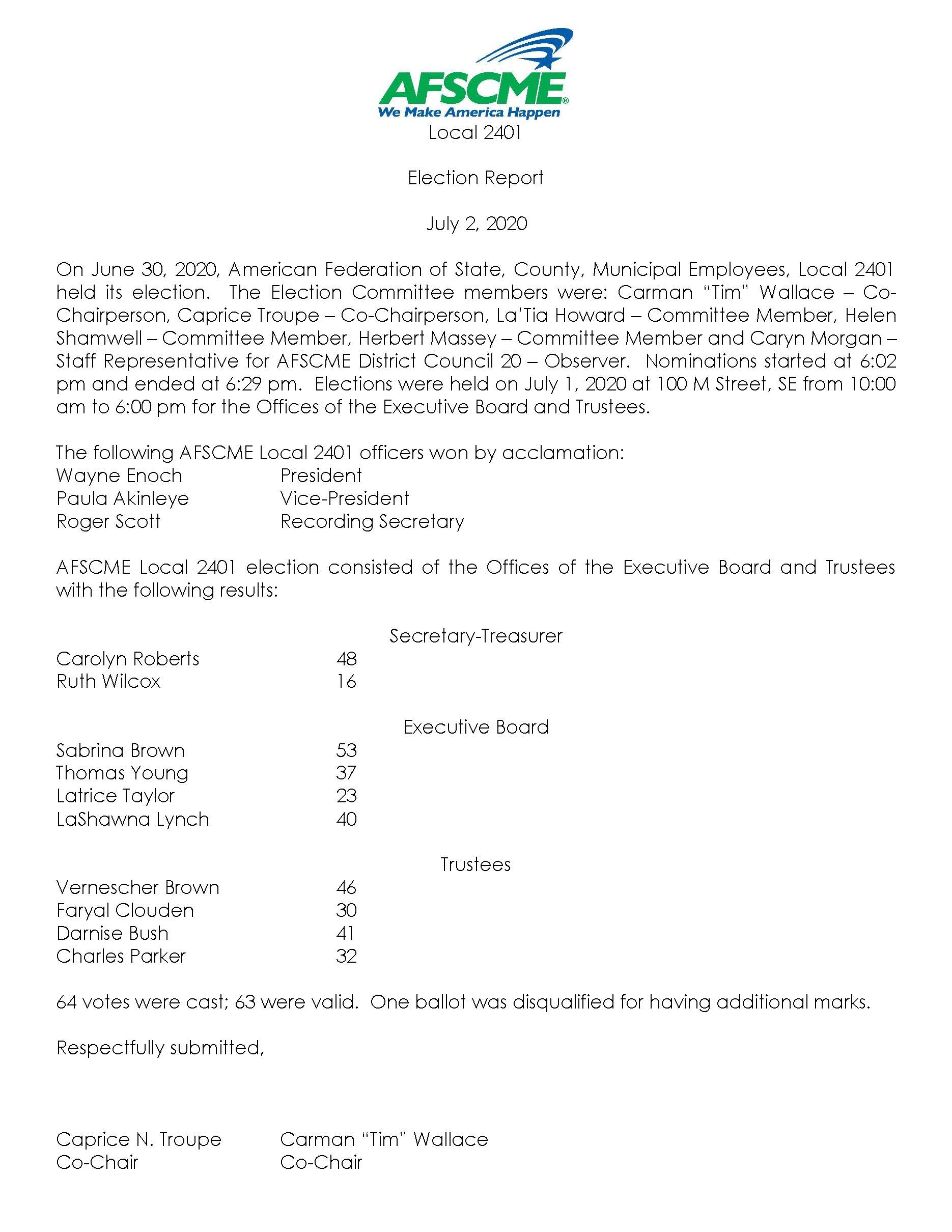 ---
ATTENTION MEMBERS WHO ARE STILL WORKING AND INTERACTING WITH THE PUBLIC! Please remember to bring your ID. Again, this is not for personal use, but for our brothers and sisters who are on the front lines and putting themselves in harm's way to service our community!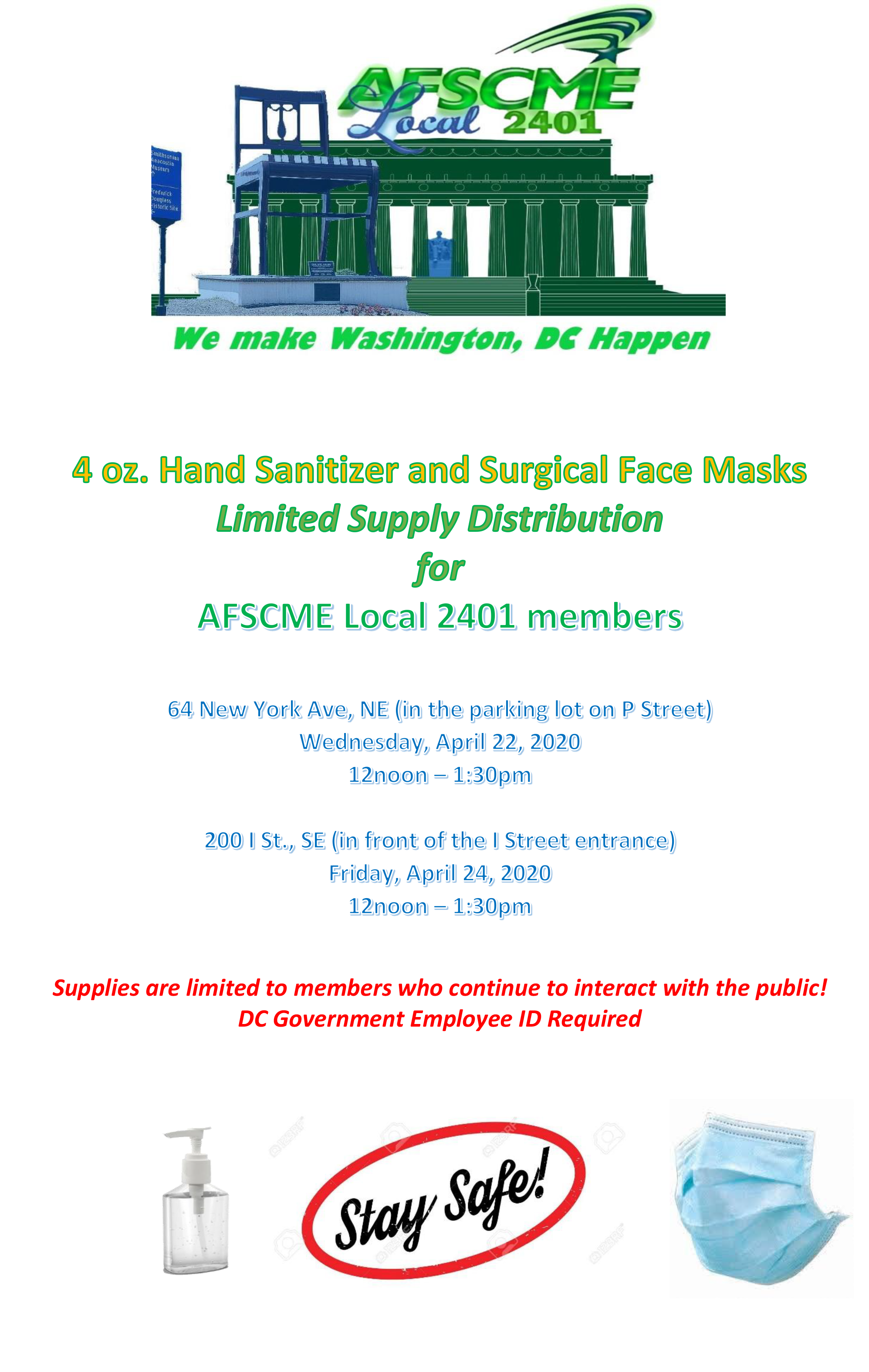 ---
Article Archives: Prev
Next of 85 articles