Celebrate DC Labor Rally!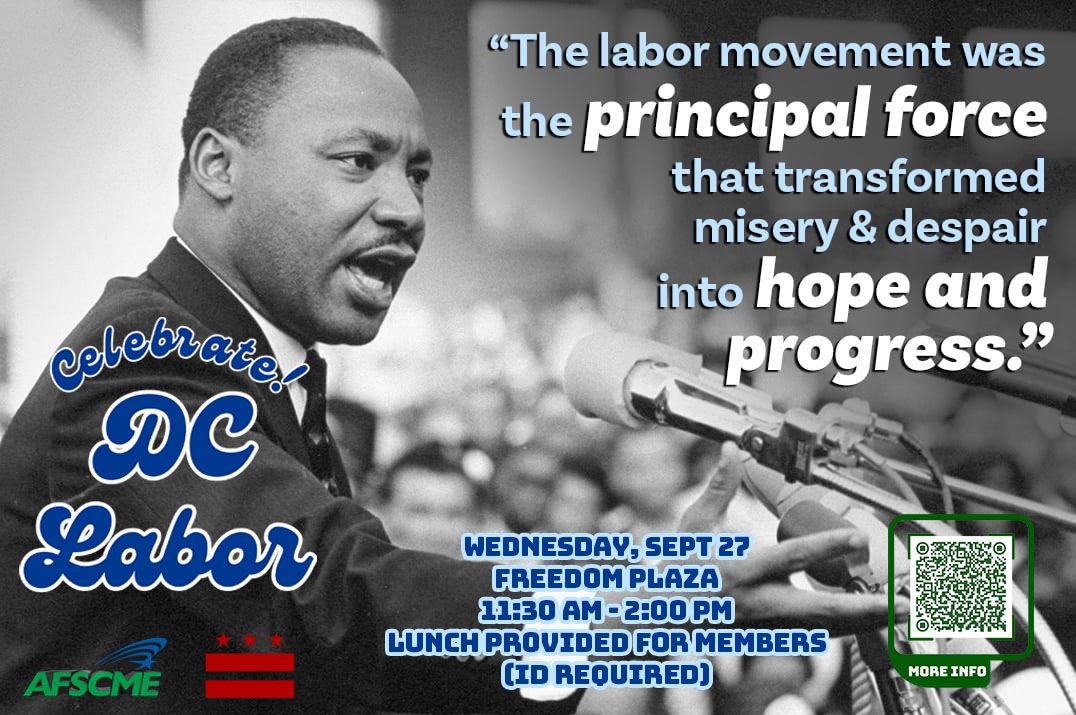 Why is it so important to attend the Celebration of DC Labor?
As members of organized labor, we are obligated to do our part in making our Union (and other labor unions) as strong and influential as possible. This rally will be taking place on the annual AFSCME Legislative Day, where AFSCME leaders meet with the Mayor and District Council at the Wilson Building (city hall) to meet and discuss issues and concerns from Labor. These meetings are important because they give our Union presidents, officers, and stewards a chance to have valuable one-on-one face time with the politicians who oversee our agencies and vote on our collective labor agreements (your pay and working conditions!). Our role on Legislative Day is to be outside the Wilson Building at Freedom Plaza, being as visible and as loud as we can be, to show that Unions Matter, and Union Workers Matter. We need to be as strong outside the Wilson Building as our leaders are inside.
When is the rally?
Wednesday, Sept. 27, 11:30-2:00
Where is the rally?
Freedom Plaza, Pennslyvania Ave., right across from the Wilson Building (city hall) near the White House
What should I wear to the rally?
We want the Mayor and District Council to look out their windows and see SEA of GREEN! Wear your AFSCME shirt (we will have some available to get at the rally, but limited supplies) or just your favorite green stuff! Green it up!!
Will I get time off work to attend the rally?
Management makes it as difficult as possible for workers to get together with one voice. You will need to take leave around your lunch time in order to attend. Remember, the rally is from 11:30-2:00, so with your lunch time included, you won't have to use too much leave. Please consider this time spent as an INVESTMENT in a better future for all DC workers, and put your leave request in TODAY!
What should I bring to the Celebration of DC Labor?
Please make and bring signs (get your kids involved!) Signs should have a positive message, but also can address some issues at your agency. Signs that are pro-union or pro-labor are also good. Remember to make them as clear to read and use the largest text possible so they can be seen by our community leaders at the Wilson Building. Bring your family and friends as well! We are trying to get the maximum # of people at the rally as possible! (please see food policy below)
How can I spread the word about the Celebration of DC Labor?
You can find flyers and other art to spread the word by clicking HERE
Will there be food provided?
Lunches will be provided, although we have to limit the # to the first (XXX) dues-paying members to arrive. If there are extra lunches leftover, we will feed guests. Bring your union card or have your work ID with you for verification.
More Questions?
Contact roger.scott@afscme2401.org
Page Last Updated: Sep 14, 2023 (13:45:00)